NOTE: Mouse over the thumbnails for a caption. You can also click on the images to view them larger.
How many of you knew nearly 30 years ago exactly where you'd be on August 21, 2017? I did. When I first turned the page in an astronomy book in 1987 and saw a nearly-eclipsed sun displaying the diamond ring and then the brilliant corona surrounding totality, I knew that was a sight I had to witness in person. Around that same time I was reading an astronomy book my dad had in his possession for several years. Not only did the book reinforce the brilliance to a total solar eclipse, but told me I could see one right here in the United States on August 21, 2017.
So the journey began.
Growing up as an astronomy enthusiast, I would spend countless hours under the night sky observing star clusters, nebulae, distant galaxies, meteors, and whatever I could view with the only tools I had, my eyes and a pair of relatively cheap binoculars. Later in life I would dabble in deep sky and
GearThree DSLR's, 4k video camera, 4 tripods, and lots of expensive glass!
landscape astrophotography, something that still holds my interest today. Meanwhile in the back of my head, the thought of witnessing a total solar eclipse never ceased. Sure, I had witnessed several partial solar eclipses and several total lunar eclipses, but both pale (significantly) in comparison to the splendor of a total solar eclipse.
Fast forward to 2016, a time when excitement about the impending total solar eclipse was beginning to rise rapidly. Roughly a year before the eclipse, many towns along the path were just beginning to plan for the influx of visitors they would be welcoming the following August. Some hotels began to raise their rates in anticipation of high demand, but thankfully I was able to find several hotels a year in advance that had not yet caught wind of eclipse - or at least hadn't realized the opportunity that would present itself. I booked two rooms, both for under $60 each, one in Grand Island, Nebraska, and the other in Marion, Illinois. Both hotels offered free cancellation until 6 PM on August 20th - perfect! The entire premise of booking rooms in different geographic regions revolved entirely around the weather and being able to choose the location which appeared best suited for eclipse viewing. In the months leading up to the eclipse, I made several preparation for myself and my photo equipment, I purchased solar filters for 3 cameras, eclipse glasses for myself (and others), and of course, obligatory 'solar eclipse 2017' memorabilia.
CloudsA lot of moisture advecting northward into Nebraska leading up to the eclipse.
Months turned to weeks and weeks turned to days. It's hard to describe my anxiety and excitement in the days leading up to the eclipse. Outside of work my days were literally filled with painstakingly analyzing every available weather forecast model and NWS area forecast discussion I could find. Just ask my girlfriend, Bethany, exactly how buried I was in weather information for those few days. After 30 years of waiting, I wasn't about to let the weather send me into a tailspin of despair. It became clear about two days out that Grand Island was going to be out of the question. While it appeared sun was possible, the Grand Island area looked to have the highest probability of cloud cover anywhere along the path of totality. By that time it was becoming more clear that far southern Illinois into Tennessee looked quite good for eclipse viewing.
Clear SkiesMy favorite forecast model for clouds showing clear skies in S. IL/W. KY/W. TN.
I wasn't convinced that southern Illinois would be entirely cloud free, so on Saturday night, just 12 hours before I was to leave, I managed to find a hotel room a little to the southeast in Clarksville, TN.
The drive down to Clarksville was great. Traffic was light and there were no real delays or issues anywhere (other than typical backups near construction zones). Arriving in Clarksville wasn't as great. The hotel I booked was terrible - the sell of mold/mildew and smoke was prevalent, the sheets were stained, the room wasn't well cleaned, and the bathroom door didn't even close! Ultimately we felt staying in the room would be unhealthy and I luckily managed to find a room nearby for $150, a rate that was a steal compared to the $300-$800 being sought for the few remaining rooms in the area. Our new hotel was much better; time to settle in for the night - after looking at the forecast models one more time.
Bright blue skies!I woke to bright blue skies which only served to enhance my enthusiasm for the day.
Waking up on eclipse morning was almost surreal - I knew the day had come, but I was still in preparation mode. I stepped outside around 8 AM to bright blue skies and started my day as I had the last few - perusing of the forecast models which only solidified that I was in an excellent area for eclipse viewing. My favorite cloud model showed the Clarksville area completely clear of any cirrus from the storms to the northwest and any typical fair-weather cumulus that develop on warm, humid days. I felt as if we were on an island surrounded cumulus developing to the south and northwest but not in our area. My faith grew even stronger when additional forecast models showed a general agreement in cloud-free skies near eclipse time. I also knew the cooling once the eclipse got past about 50% would help to dissipate any small, rogue cumulus that developed. The hotel we stayed at had an adjacent large gravel
SetupSetting up my gear and chatting with Connor McCrorey
parking area with plenty of room to set up, I instead set up right in front of the hotel with a few other eclipse chasers who decided to avoid the crowds in nearby parks or the mega-crowd in Hopkinsville. Shortly after I began setting up, and long time acquaintance from the storm chasing world, Connor McCrorey showed up with his mother, father, and sister - it was great to meet someone I had "known" for years but had never met in person.
Happy Eclipse WatchersMy girlfriend Bethany and myself waiting for totality.
The day was hot and it was sticky! Bethany decided to sit in the air conditioned vehicle (I don't blame her one bit) much of the time while I was setting up my camera equipment. Thankfully setting up my equipment and the visit from Connor made the time move fast because otherwise I would have driven myself crazy waiting. Checking the time when I finished setting up revealed that first contact (when disk of the moon first touches the solar disk) was only about 10 minutes away. O M G. I knew by this time that viewers on the west coast were only minutes in totality and the shadow cast by the moon would soon be moving across the United States at well over 1000 MPH. For the next hour and a half I would click off images about every 5 minutes to capture different phases of the partial eclipse. My solar eclipse app would
Crescent ShadowsThe sun, now only a crescent, filters through leaves on a tree.
occasionally remind me to observe the drop in ambient temperature and the dusk-type behaviors that animals and insects would soon be exhibiting.
At about 70% I began checking some of the trees for crescent shadows, a shadow cast onto the ground tha t showed the crescent shape of the current phase of the eclipse. At some point during the partial phase, Bethany took a short video of me asking ab out my excitement. The app would continue to give audible warnings as totality neared..."10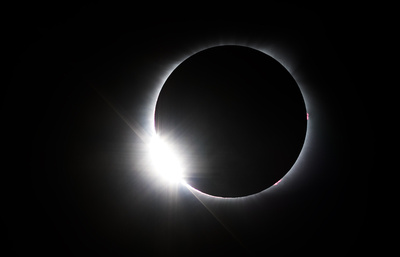 The "diamond ring" as the last sliver of the sun is eclipsed.
minutes...", "8 minutes...", "5 minutes...", "1 minute, observe for shadow bands...". At this point I clicked off my last image of the partial phase and made sure my settings were correct to capture the diamond ring and my bracketing was set for shots of the corona. The sky was darkening extremely fast at this point and there was an eerie stillness to the air. At 20 seconds until totality, I removed my camera solar filters and watched as the moon covered the last remaining bit of the sun all while double fisting my camera shutter cables to grab as many images of the diamond ring as I could and...
TOTALITY!
Holy shit! Sorry, there's really no better way to describe the emotion.
How are you feeling right now?
The sky was something incredible, not just totality, but everything about it. There was a "sunset" the wrapped 360 degrees around the horizon, the sky turned not black, but the deep most mesmerizing blue I have ever seen. And there at the apex of this deep blue abyss was the darkest black perfect circle surrounded by the most incredible waves of light emanating from out behind the dark black "hole" in the sky. I have never seen a single picture of the corona that does any justice to what I witnessed for the two and a half minutes. Strangely, while I remember what it looked like I don't have a vivid memory of totality. Someone in one of the eclipse groups I'm a part of on Facebook made note of not having a vivid memory of totality either, that was followed by several comments from people with similar experience. Sensory overload perhaps? I may not have a vivid memory of totality, but I absolutely remember just how incredibly out of this world it was.
And just like that it was over. The diamond ring appeared on the other side and all was almost back to normal. The cicadas began singing again, several flocks of birds flew out of their roost, and one lucky House Sparrow managed to pick off a cricket right in front of me that had come out thinking it was night time just moments ago. It felt odd, I wanted to stay and continue to photograph the waning partial eclipse, but having just witnessed totality it was a big anticlimactic. I walked around and gave all of the other eclipse viewers at the hotel a big high-five.
Cars as far as the eye can see on a rural Illinois road.
The drive home sucked. What should have been a 7 hour drive turned into a 12 hour drive as much of I-57 was a parking lot as it was the only interstate that lead from downstate IL and W. KY/TN back to the third largest city in the US. From roughly Marion to Effingham we made our way through every type of back road possible trying to avoid the worst of the traffic - and many of the back roads were just as full as the interstate! Alas my adrenaline from the day kept me going and we arrived back home at right around 2:30 AM.
More images and video from the day...
Clicking away during the final seconds of totality.
Setting up.
Eclipse twins!
Solar prominences erupt from the surface of the sun.
The outer atmosphere of the sun, the corona, shines from behind the disk of the moon.